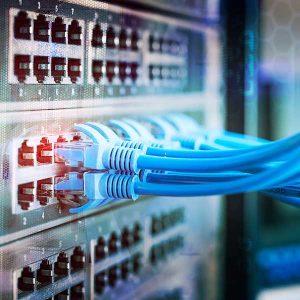 Network Cabling in West Virginia
Cabling Infrastructure
Your business' telecom needs are only growing. Is your network cabling infrastructure rated to handle the growth? GlobalTech Communications specializes in network cabling for businesses of all types, and we work to ensure your telecommunications needs are supported by a backbone that's designed specifically to handle them. We've helped businesses throughout West Virginia understand their cabling infrastructure and made upgrades and additions to enhance its utility.
CAT5/6
CAT 5 and 6 cabling is a staple of any wired infrastructure. We take pride in our cabling capabilities and will make sure every aspect of your facilities are wired in appropriately. Forget about rats' nests and unlabeled cabling—our cable management is impeccable.
RJ6
If your facilities have coaxial needs, we'll meet them with the best cabling on the market today. RJ6 enables robust connections with resistance against interference and can be broadly used underground or outside. Let us wire in your AV installations with cabling that'll stand the test of time and whatever the West Virginia weather throws at it.
Fiber optic
Fiber optic is the best in the business for improved signal speed, strength and clarity. If you're working with large amounts of data—such as for a data center or business cloud—we recommend fiber optics. Our team can install them in any capacity befitting your facilities.
Air-blown fiber
We offer FutureFLEX air-blown fiber optic cabling and can quickly and easily blow-in any fiber type wherever you need it. Taking advantage of "fiber on demand" to add, move, change or reconfiguration your network in minutes or hours, instead of days or weeks.
Full-Service Telecommunications
As a full-service telecommunications company, we understand that your needs are only growing. It's why we gauge the scope of every customers' telecom demands, to ensure we're delivering cabling solutions that are effective at-scale.
---
We Provide Solutions
Regardless of your cabling needs or the scale of your network, GlobalTech Communications is ready to provide solutions that streamline your phone and data. For more information about network cabling or to discuss the scope of your project with our experienced installers, please contact us today at 304-345-5530.